Antec Mini P180
There are not that many classy cases when it comes to mATX form factor. Perhaps Antec's new Mini P180 can change all this?
Affiliate News
.:Cases & Cooling
:.
NorthQ Siberian Tiger CPU Water Cooler
@ 3dgameman
The NorthQ 3580 Siberian Tiger CPU Water Cooler is a sealed liquid cooling system that comes completely configured with the liquid coolant preinstalled. So there's no need for any extra installation like many other liquid cooling kits. The pump, water reservoir, cold plate as well as the electronics are housed in one compact unit. It also comes with a 120mm copper radiator and a 120mm fan. This product offers great performance, is easy to install and requires no maintenance.
:.
bgears b-Envi Gaming/HTPC Enclosure
@ Virtual-Hideout
When I first looked at the b-Envi enclosure, I thought the front panel controls were either hidden or on the side of the bezel. Boy, was I surprised when I flipped through the manual and found out they were touch sensitive; I couldn't wait to try them out. The buttons work great, and there is even a little beep every time you push them.
:.
Ultra m998 Computer Case
@ Rbmods
Most ATX cases on the market nowadays come with a fairly standard set of equipment and have similar layouts. It's rare that you find a case that offers a variety of unique features. Ultra, makers of a wide range of computer components, has developed a new case, the Ultra m998 Computer Case, which offers a number of unique features. Will the case prove to be a winner?
:.
Lian Li PC-A77 Full Tower
@ hardwarezone
There are times when you can tell the manufacturer of a casing with a single glance and the Lian Li PC-A77 just happens to be one. From its light but sturdy chassis to its sleek minimalistic design, this PC-A77 strikes us as having all the right moves.
.:CPU
:.
Core 2 Quad or Core 2 Extreme?: Which processor is right for me?
@ TechwareLabs
With all the releases of processors its nearly impossible to keep track of them and even harder to select the one thats right for you. We take a look at the Core 2 Quad and Core 2 Extreme and explain the differences to help you make a decision between two different examples.

.:Motherboards & Memory
:.
Crucial Ballistix Tracer Red DDR2 4GB PC2-6400
@ ASE Labs
Remember that the Tracer series from Crucial is very mature. I even reviewed the original set of black modules last year. These new red modules mark a trend in computing that Crucial is good to follow. The fact of the matter is that people like personalization. I'm guilty of that myself. I know that these modules are hardly better than the normal Ballistix breed, but the fact that it is red and has lights adds something of value to people. Red is my favorite color and I would naturally gravitate to these in a computer I would build.

.
ower Supply
:.
Zalman ZM360B-APS Power Supply
@ hardwaresecrets
Zalman has a complete line of power supplies from 360 W to 1,000 W. We decided to take a look on the simplest model, ZM360B-APS, which costs only around USD 60. Even though it is an entry-level power supply, it features active PFC, a 120-mm fan and two video card power connectors, so things looked pretty spec-wise. But can it really deliver its rated 360 W?
.:Software
:.
Windows Vista SP1 gaming performance
@ bit-tech
It does add quite a few new features though and if you're stuck deciding between installing it and not, we recommend going through the change log to see if any of the changes are useful to you. Of course, there is another side to the Windows Vista Service Pack 1 coin-2D application performance-and that's something we're going to be investigating later this week.
.:Storage
:.
Vizo Uranus
@ XSReviews
Vizo have sent plenty of bits and bobs my way over the last couple of years and one area of products they keep making and keep improving on is their HDD enclosures. Today I have one such product, the Uranus (that's yur-uh-nus, not...) which has a sleek blue finish. Will it live up to Vizo's reputation?
:.
Kingston DataTraveler HyperX 4GB USB Drive
@ ThinkComputers
Earlier this year Kingston released the DataTraveler HyperX series USB drives which are available in three different capacities: 2GB, 4GB, and 8GB. This is by far the fastest USB drive Kingston has produced with transfer rates of 30mb/s read and 20mb/s write. It not only has fast transfer rates, but fast access times as well. The HyperX is enhanced for Windows ReadyBoost and comes with a 5 year warranty.
:.
RAID Explained
@ TechwareLabs
RAID can be one of the most difficult to understand concepts in computers while at the same time offering the greatest boost in performance for your system. For those seeking an explanation of what raid is, how it works, and which one is right for you, we have created a guide to step you through it in a single page.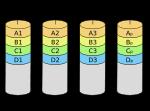 _________________
Metku
|
AlltheMods
|
LedCalc
|
Teknolelu
|
AndroidCoding
Main Computer: Intel i5, MSI H55M-ED55, 12 Gigabytes of DDR3, 3 Terabytes of HDD, GTX295 and Benq 27"