NZXT Tempest
Black mid-tower ATX case made out from steel. Big window and lots of fans. Does it offer value for your money? Read on to find out...
Affiliate News
.:Audio
:.
Honeywell Airlite 700 Wireless Bluetooth Headset
@ 3dgameman
The Honeywell Airlite 700 Wireless Bluetooth Headset performs admirable well. If you require wireless Bluetooth headset that has great range, battery life and speaker/mic clarity I would recommend you check this product out. Also, it's only .57 x 0.44 x 0.70 (inches) in size and weights 9 grams (.32oz). Small and lightweight is key for a mobile phone headset because over time a heavy headset would become a burden.
.:Cases & Cooling
:.
Noctua NH-U9B CPU Cooler
@ Rbmods
Noctua, makers of some of the best case fans on the market, has branched out into the CPU cooler market, which is a move that makes sense since they already dominate the high-end fan market. They sent us one of their new CPU coolers, the Noctua NH-U9B, to test out. Will this be a natural expansion of their product line or will we find growing pains?
.:Input
:.
Wolfking Warrior XXtreme
@ Bjorn3D
Today I hope to help with your decision by taking a look at the Wolfking Warrior XXtreme gaming keyboard. As an avid gamer that has always used a basic keyboard, the comparison will prove to be a great test for the latest Wolfking.
.
ower Supply
:.
NESTEQ ECS7001 700W Power Supply Unit
@ TechwareLabs
Ruffy takes a look at the new NESTEQ 700W PSU which is rated at 80+ efficiency. We ran some in use tests and shows you why the attention to design detail from the modular design, types of cables, quantity of cables provided that in effect seem to double due to their patented Enhanced Easy Connection System is worth you taking a look at this PSU.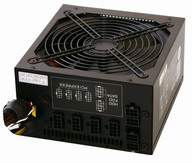 .:Storage
:.
Akasa UV SATA Cable
@ XSReviews
SATA cables aren't the most interesting of products in the computer sector and most motherboard manufacturers bundle them as freebies. However, some SATA cables are said to increase airflow, provide better cable management and offer better transfer speeds, but is any of this true? Well today I have a UV blue Akasa Serial ATA cable for review, so let's find out.
.:Video
:.
XFX GeForce 9800GTX Black Edition
@ gamepyre
Overall this card is a solid piece of equipment that excels in the 1920X1200 and below resolutions with moderate AA and AF settings. In the 1680 and 1280 resolutions you can turn up the AA and AF settings to their maximum values and get great FPS gameplay. Not quite a gamers gold card, but definitely a Gamers Silver card award winner.
_________________
Metku
|
AlltheMods
|
LedCalc
|
Teknolelu
|
AndroidCoding
Main Computer: Intel i5, MSI H55M-ED55, 12 Gigabytes of DDR3, 3 Terabytes of HDD, GTX295 and Benq 27"