Gainward Bliss 9800GX2
8800 series was a great move from NVIDIA. While it offers great GFX computing power there is much room for improvement. That's where the 9800 series comes in. We took a look at Gainward's latest beast and we loved what we saw!
Affiliate News
.:Cases & Cooling
:.
Lian Li PC-P80R ATI/AMD Spider Series
@ hi-techreviews
Conversations in some forums are calling the Lian Li PC-P80R the perfect gamers case and I will not be one to argue this point with them. If you take a few minutes to read our review you will see what all the fuss is about. This is a case where red aluminum never looked so good.
:.
Cooler Master Centurion 590
@
http://techgage.com/article/cooler_mast ... urion_590/
When the budget is tight and you have to have a quality free flowing case for that next gaming PC you are building, who are you going to give your money to? Once again, Cooler Master has a new release for under $70 that looks to be jam packed with the features you are looking for.
:.
NZXT Tempest
@ Bjorn3D
Being on something of a strict diet myself when it comes to purchasing new hardware, I certainly appreciate a company that can combine all of the above mentioned features in a single product. Enter NZXT and the Tempest midtower case. Did they pull it off and create a budget-friendly winner?
:.
Lian Li PC-A09B Classical Series Mid-Tower
@ BmR
Lian Li is known for well made products when it comes to stylish computer cases and functional chassis. They have been on the market for seven years now and Benchmark Reviews has been pleased to have the opportunity to review several of their items. This time we will be taking a look at the Lian Li PC-A09B Classical Series Mid-Tower Case to see if it stacks up to the others.
:.
Lian-Li PC V1010
@ ThinkComputers
Lian-Li recently renewed its V series line-up with five new cases: PC-V2110, PC-V2010, PC-V1110, PC-V1000Z, and the focus of this review, the PC-V1010. ThinkComputers goes inside the Lian-Li PC-V1010 chassis in this review.
.:Motherboards & Memory
:.
OCZ Reaper HPC PC3-10666 2 GB Memory Kit
@ OCIA
With the semi-recent arrival of DDR3 memory, OCZ has had the chance to expand on a whole new line of products. Already, they have the full series available on their website: Reaper, ReaperX, Platinum, Gold, Titanium~E the list goes on. Today, we have for review the 2x 1GB OCZ Reaper HPC PC3-10666 memory kit, rated at 1333MHz.
:.
Game Testing 2GB versus 4GB of Memory on Vista 64-bit
@ Legit Reviews
Our average frame rate increase of 1.6% in nine games was slightly higher than the 1.1% shown by Corsair in the three games they tested, but our test system was a little newer and we were running Vista SP1. Something else that we noted while running the benchmarks is that game loading times were also significantly enhanced by installing 4GB of system memory.
:.
Gigabyte X48 DQ6 Socket 775
@ Pro-Clockers
Gigabyte being a leader in motherboards is making it easy on us to have the best when new chipsets are released. They have being right there, first to market, when Intel believed it was time for change. This used to be a position held by Asus. Gigabyte is the first to bring us the new X48 chipset to our rigs. This honor belongs to the X48-DQ6 and X48T-DQ6, DDR2 and DDR3 versions respectively. The DQ6 being the high end model for Gigabyte, it has all the bells and whistles.
.
ower Supply
:.
OCZ EliteXStream 1000W Power Supply
@ 3dgameman
The OCZ EliteXStream 1000W Power Supply distinguishes itself from the many others on the market because it's compact, offers lots of watts and has a single high power +12V rail (80A). A single +12V rail tends to be preferred, especially in a multiple video card setup because all the power is available on a high powered rail and not spread over multiple rails. It's also efficient, has quality power and comes with a quiet 120mm fan. This will be a very sought-after power supply. Watch the video to find out more.
:.
Kingwin 700 Watt Mach 1 Power Supply
@ TechwareLabs
Is power as important as good looks? Why not have both? Today, Artiom checks out the Kingwin 700W Mach 1 Power Supply. Can this chrome stallion hold up in testing?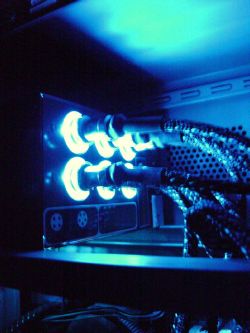 :.
Enermax Pro 82+ (385W) PSU
@ Driver Heaven
Enermax is one of the world's most reputable switching PSU manufacturers and their products are considered to be some of the best that money can buy. Recently they released two new product lines, the Pro 82+ and Modu 82+ series. Both product ranges contain units with maximum power output ranging from 385W to 625W and whilst a maximum output of 385W may sound insufficient with the availability of 1kW+ PSUs during the past year, it is more than adequate power for a modern system with a single GPU and numerous drives installed.
:.
Ultra X3 800Watt Modular Power Supply
@ Tweaknews
Testing yielded stable voltages, quiet operation and I won't have to worry about buying a new power supply when the time comes to upgrade my system. The flat, flexible modular cabling system was great to work with and has spoiled me completely. I can't imagine going back to regular cables, much less a non-modular design.
.:Storage
:.
Kingston DT 400 & OCZ Rally2 Turbo
@ driverheaven
The DT400 is a well made Flash Drive with very good read performance but its main strength is the bundled software and the functionality which it provides. Whether it is the MigoSync application which is ideal for office and remote office use or the SecureTraveler which means that the consumers data is protected the drive has real world benefits especially for those prone to loosing flash drives with sensitive data on them. Whilst the read performance of the DT400 is not as good as OCZ it should be taken into consideration that the Kingston model is still faster than most generic USB storage and as well as being ReadyBoost Certified is backed by a five year warranty.
:.
OCZ Technology 4GB Rally2 USB Flash Drive
@ Viper Lair
The OCZ Technology 4GB Rally2 USB Flash Drive is the fastest flash drive I've had the opportunity to work with. The drive itself has a tough, durable feel to it given the chassis is made primarily out of aluminum. Thankfully, OCZ has one of the more classic types of logos, so the corporate branding doesn't over power the aesthetics of the device.
.:Video
:.
Asus EN9800GX2 TOP
@ Rbmods
Todays review will be about the new 9800GX2 TOP videocard from Asus. This badboy seems to have pretty much everything when it comes to features and speed. You end up paying around 550$ USD for this card so the question remains, is it really worth it or are there cheaper solutions on the market that can give similar performance?
:.
VisionTek HD3870X2 OC
@ neoseeker
When it comes to performance, overall the VisionTek HD3870X2 OC did well, but not amazing. This video card is selling for around $450 right now -- about $30 more than VisionTek's standard, reference design card. While this card will definitely keep your games all flying at a fast clip, this card does face some healthy competition...
:.
ASUS 8600GT TOP
@ TheTechLounge
It's new SKU for a card closing in on its end of life; the model being about a year old now. Just the same, with a hundred-dollar price tag, it's definitely got an audience, no matter what cards there are competing against it, or what cards have been released since.
:.
Palit GeForce 9600 GSO Sonic 768MB
@ tweaktown
It seems we're right on time for another pointless release of a graphics card that is slightly better or slightly worse than what is on the market already, whilst carrying with it a price tag pretty similar to that of what's already available. Did that confuse you? - The thing is, these graphics card releases from NVIDIA are becoming nothing short of a joke.
:.
Sapphire Radeon HD 3870 Toxic
@ ASE Labs
It has been a very long time since a graphics card has passed by the review bench of ASE Labs. Sapphire steps up to the plate with their release of the Radeon HD3870 Toxic Edition that hopes to earn some of your hard earned cash. With AMD's support of open source, the ATI partners are in a good position to conqueror the Linux market and the future to bright. Sapphire is the biggest producer of ATI cards and we will see how their product performs.