Assembly '08
Four days and three nights (not much sleeping though) of LAN gaming, Demo coding, dancing and gaming compos etc. It was a madhouse but we loved it.
Affiliate News
Barebones & Handheld
:.
7 Days with the HP 2133 Ultra Portable Netbook
@ TechwareLabs
Ultra Portable laptops have reached new levels of usability and even shrunk in size recently. What Asus started with its introduction of the EeePC other manufacturers have continued and introduced their versions of the now popular "Netbooks". We take a look at one of the nicest designs on the market right now with HP's 2133. This all aluminum masterpiece would fit right in on the show room floor and gives its owner just the right asthetics and feel. But we test out the engine under the hood in addition to the fit and finish of the 2133. Find out what our inspection showed.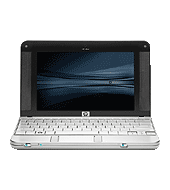 Cases & Cooling
:.
Antec Twelve Hundred Gaming Case
@ Virtual-Hideout
One of the last cases to make a hit with the enthusiasts was the recent Antec Nine Hundred. To give you a little recap, it offered front Dual Blue LED 120mm fans along with two internal 120mm fans, a unique side window with the optional 120mm cut out behind the black screen, 200mm top exhaust fan, top mounted front panel ports, and looked pretty cool. You can still find them on several shelves and makes one heck of a mid-tower case. After patiently waiting, we received word that the Antec Twelve Hundred was finally on the way. If you liked the Nine Hundred and just about bought one, you'll really appreciate the Twelve Hundred. It's one of those cases you might just have to have.
Misc
:.
QuakeCon 2008 - A Quad Damage of Babes
@ tweaktown
At QuakeCon I was pleasantly surprised at the amount of female gamers in attendance. Not only has gaming crossed the lines of language and social class, but it is now smashing through the gender barrier.
:.
Verbatim Notebook Essentials Kit
@ ocmodshop
If you travel a lot, or even a little, chances are you own a laptop or notebook PC. And you probably own one of those neat little carrying cases as well. They have just enough room inside for the computer itself with a little left over to stick the power cord inside next to it. If you're lucky, there'll be a pocket on the front like mine where you can put any extra gadgets you have. That would be the perfect place to put the new Verbatim Notebook Essentials Kit.
Power Supply
:.
In Win Power Man Commander 1200w
@ hi-techreviews
After you have reviewed enough power supplies you can begin to tell how well it will perform longer before you ever hook it up to a system. For example if the unit is to light it is a sure bet that quality components were not used or small heatsinks we used instead of large one. Yes there are exceptions so power supply makers don't email me and complain. When we first laid our hands on In Wins new 1200 watt power supply we knew that it had alot going it. Come check our review and see what we are talking about.
Storage
:.
Thermaltake BlacX SE
@ Bjorn3D
The storage needs in computing today have grown tremendously as opposed to a few years ago. More and more people need massive storage to store a large Music or Video collection. Some just need to read through a pile of drives to see if their functional, others need the flexibility of swapping drives in and out without having to break out the tool kit and seat it in an enclosure or mount it in a chassis.
:.
Vantec NexStar 3i External Hard Drive Enclosure
@ ThinkComputers
The Vantec NexStar 3i External Hard Drive Enclosure incorporates power saving modes to help save power and prolong the life of hard drives. It operates in three power saving modes: idle, stand by, and power down; all of which are automatic. The USB connectivity provides high data transfer rates on hard drives with up to 1TB of data. The small design of the NexStar 3i takes up very little desk space and even keeps cool with an aluminum case. Read on further to see how it performs.
:.
SilverStone SST-TS01B RFID External Drive Kit
@ BmR
Benchmark Reviews has looked at some HDD enclosures in the past and they have all done what they were intended to do, but in my mind, there was something missing. None of them really stood out, in terms of features or performance. None of them said, "BUY ME" in no uncertain terms. This one does. Let's see how it performs on the bench and in daily use.
Video
:.
Asus EAH 4870 TOP
@ Rbmods
Today we are taking a look at one of the top of the line cards at this time. The card costs a bit more than the others on the market so the main question is does the card really perform so well that it's worth putting the money into it. We are going to compare it vs a few other Asus cards that have proven to perform quite well and we will also see if we can tweak a bit more out of the card even though it's factory tweaked already.
_________________
Metku
|
AlltheMods
|
LedCalc
|
Teknolelu
|
AndroidCoding
Main Computer: Intel i5, MSI H55M-ED55, 12 Gigabytes of DDR3, 3 Terabytes of HDD, GTX295 and Benq 27"