Steelseries IKARI Laser & Optical
Looking for a new gaming mouse? You can't go wrong with these IKARI mice from Steelseries.
Affiliate News
Cases & Cooling
:.
Tagan A+ Black Pearl WCR
@ APH Networks
Built by Lian Li, the company with a reputation for legendary quality cases, the Tagan A+ Black Pearl looks like a winner on paper.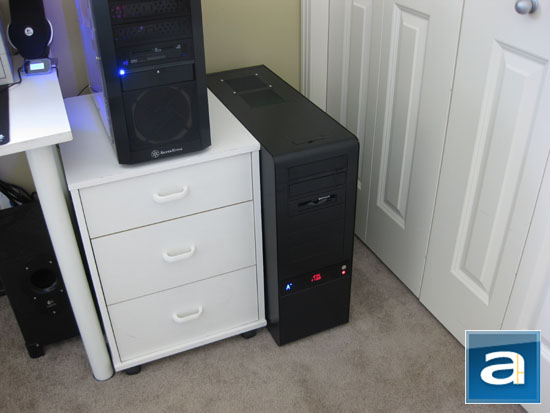 :.
Cooler Master HAF 932 Case
@ TechwareLabs
With so many cases to choose from in today's market, where do you go? The people at Cooler Master have crunched numbers in their labs time after time, and now it's time to crunch some in ours! Today, Matt Homan takes a look at the new Cooler Master HAF932 (High Air Flow) case. Will it perform HAF as well as we think?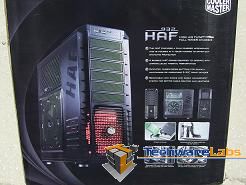 :.
Lian Li PC7B Plus II Mid-Tower Case
@ Benchmark Reviews
The name Lian Li is synonymous with quality computer cases and computer accessories. They've been in the business for over 20 years and have attained ISO 9001 certification for all of their products. They've built some reputation over the years and have received accolades from the computer industry as well as end users; but nobody is perfect. Today Benchmark Reviews will take a look at the Lian Li PC7B Plus II black aluminum mid-tower computer case and see if this reputation for quality and performance still holds true, after all these years.
:.
Moneual Labs MonCaso 972 HTPC Case
@ ThinkComputers
The MonCaso 972 is one of the most appealing HTPC cases out there with a 7-inch touchscreen LCD on the front, included media center remote, card reader, and a great design. Let's take a look and see what all the MonCaso 972 from Moneual has to offer.
Input
:.
Stix 200 Wii-like PC Controller
@ i4u
The Stix 200 controller itself looks very much like the Wii Remote. It has the same white color and "D" shape design with a trigger on the bottom of the controller, two buttons on top, and a circle with four other buttons on it that is like a "D" pad on a normal gaming controller. The buttons are backlit with a green light and are touch sensitive so there are no real buttons to press other than the trigger underneath. All of the buttons are fully programmable.
:.
nMedia HTPCKB Media Center Wireless Keyboard
@ Benchmark Reviews
Setting up an HTPC is the easy part. Making it easy to use on your TV is slightly more difficult. Controlling your HTPC is the hard part. The nMedia HTPCKB wireless keyboard and remote make controlling your HTPC that much easier. A 2.4ghz radio connection and 10m range allow you to control your computer anywhere in the livingroom without any of those pesky line of sight problems with other remotes, while keeping things simple using a driverless USB dongle to connect. Here at Benchmark reviews, we'll get the bottom line on the nMedia HTPCKB and all its wireless goodness.
Motherboards & Memory
:.
Asus Maximus II Formula
@ Rbmods
Today we look at another DDR2 solution from Asus, they still keep pushing out motherboards for the DDR2 market since DDR3 still might have not got the recognintion it should. This new Maximus 2 board is filled with various new features that might come in handy when overclocking, playing, and even just surfing the net. No more crap talk lets get this review on the road.
Power Supply
:.
be quiet! Straight Power E6 450W
@ Technic3D
The new be quiet! Straight Power 450W PSU E6-Series arrived Technic3D. See you in the following Review from Technic3D the next PSU Review with a high efficiency and a good price. The September 2008 PSU Series better than the E5 Generation from August 2006?
Storage
:.
Thecus N3200 Networked Area Storage (NAS) Server
@ Bjorn3D
The Thecus N3200 has been designed for ease-of-use - from the installation of hard drives using their completely tool-less design to the ability to configure and manage the unit through any web browser using their web-based management tool. Small, yet feature ladened, the Thecus N3200 hopes to help propel Thecus to the top of the heap when it comes to NAS solutions.
Video
:.
Palit HD 4870 Sonic Dual Edition 512 MB
@ techPowerUp
Palit is one of the first AMD board partners to release a custom Radeon HD 4870 version. Their new HD 4870 Sonic Dual Edition comes with a completely revamped cooling assembly that features two fans to keep the card cool. Also included is a DisplayPort connector and a Turbo switch which lets you select the operating frequencies of the card. The mandatory "overclocked out of the box" is included as well.
:.
ASUS HD4870-X2
@ t-break
AMD recently introduced the HD 4870 and it certainly made their competition revise their pricing immediately. While it's AMD's top-of-the-line GPU, lately AMD has been focusing more on lesser priced products that deliver excellent value for performance. But they obviously wish to compete in the fastest graphics card category and for that, they~Rve been using dual GPU based cards.
_________________
Metku
|
AlltheMods
|
LedCalc
|
Teknolelu
|
AndroidCoding
Main Computer: Intel i5, MSI H55M-ED55, 12 Gigabytes of DDR3, 3 Terabytes of HDD, GTX295 and Benq 27"